RMP Competizione has been preparing for the 2022 racing season since the last lap turned in 2021.
During the long winter, the team at RMP prepared many BMWs to compete in the upcoming CASC racing season. The cars have been put through some dyno tuning, suspension modifications, cooling, fuel system upgrades and alignment/corner balance setup. Many hours have been spent on the the cars to compete for the 2022 Championship.
After our success in the previous years, we are confident that our 2022 season will be a great one. 
Our first testing event was at Shannonville motorsport park. We tested our M235iR and Pat Cyr's freshly re built E46 M3.
Pat was involved in an incident at the final event last season that damaged his car  beyond repair. Allot of hard work and effort was put towards co-building Pat's new car for 2022.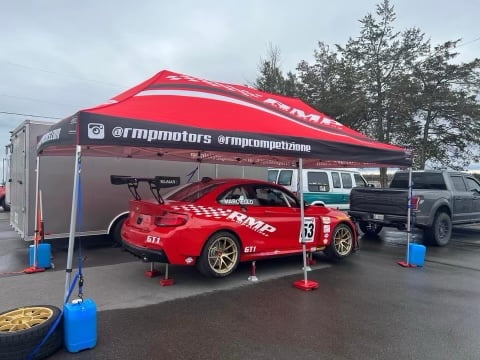 The test went very well, with  rain starting off the day the track was damp but we were able to put in a few laps, then checked over the cars for some more testing.
As the day went on, the sun came out giving us some dry track time. We ran some of our fastest lap times in the M235iR, with Pat following close behind. Both cars ran flawlessly. This made us very excited for the upcoming first race weekend that will be held May 7-9 at CTMP.
Check back for update race results after each event.