The excellent start to the 2015 season was a sign of what to expect from RMP Competizione . With many hours of preparation and tuning, all 3 RMP Competizione entries were found at the top of the charts for the remainder of the 2015 events. In GT2, John Hansen and Marek Petruczynik, battled most of the season for 1st place in class. In GT1, Rocco Marciello, lead the field most of the season, winning most feature races and finishing each race with excellent reliability and performance. At the second Calabogie event of the season, RMP was found on top of the rankings in all 3 races.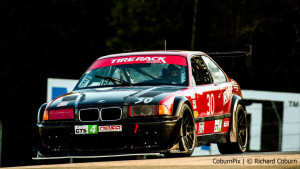 Rocco Marciello won the feature race over 45 seconds ahead of the field with the fastest GT sprints time of the weekend. Team mate John Hansen finished second overall, and 1st in GT2 well ahead of the rest of his class. This weekend put RMP in the lead of the points standings in both GT1 and GT2.
The last race of the season was held at Canadian Tire Motorsport park, with the GT1 championship already locked in, Rocco Marciello ran his GT1 Triumph TR7 to another victory padding his points lead. GT2 driver John Hansen in his BMW E36 ran an excellent weekend taking the 1st place position from Marek Petruczynik winning the GT2 championship back to back.
The 2015 season was wrapped up with a Grand Finale Fun race, that was won overall by Marek Petruczynik in his EX Cascar Monte Carlo, we congratulate him on his victory and personal fastest lap of the season of 1.28.
This put RMP Competizione ahead of the competition with Rocco Marciello winning 2012-13 and 2015 GT1 Championship, John Hansen winning 2014-2015 GT2 Championship, and Marek Petruczynik came 2nd in GT2 in his first full GT2 season.
The 2015 race Ontario GT Sprints results shows that with RMP Motors you will receive championship winning service, that is second to none!
We also would like to thank Bully Clutch, Fuchs oil, and MolySlip for there continued support throughout the years. Preparation for the 2016 season has started , and with some changes and upgrades it looks like it will be a great one.